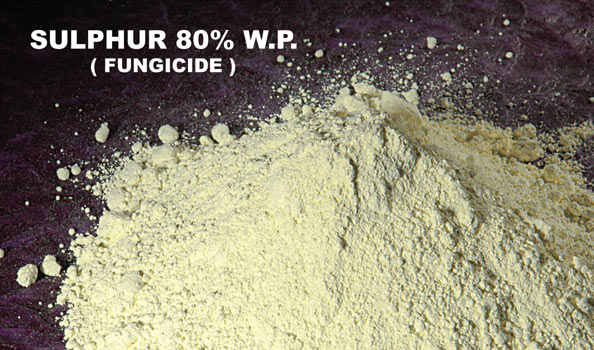 Sulphur 80% is a contact fungicide sulphur containing 80% Sulphur as active ingredient and balance adjuvants 20% w/w.
---
Recommendation:

Crop(s)
Name of Disease
a.i. (Kg)
Formation (Kg)
Dilution in (Ltr)
Apple
Powdery Mildew
2-4
2.5-5.0
750-1000
Grape
Powdery Mildew
2-4
2.5-5.0
750-1000
Groundnut
Tikka Leaf Spot
2-4
2.5-5.0
750-1000
Cowpea, Moong, Urid
Powdery Mildew
2.5
3.13
750-1000
Pea
Rust
2.5
3.13
750-1000
Powdery Mildew
2.5
3.13
750-1000
Sorghum
Grain smut
2.4-3.2 gm/kg seed
3-4 gms/kg seed
1Ltr/10 kgs. seed
Chillies & okra
Powdery Mildew
2.5
3.13
750-1000
Mango
Powdery Mildew
2.5
3.13
750-1000
Citrus
Powdery Mildew
2.5
3.13
750-1000
Direction of Use :
Equipment used in application: Knapsack sprayer, foot sprayer, compression knapsack sprayer, compression knapsack battery sprayer and ASPEE-HTP power sprayer. Mix the required quantity in a small quantity of water to form thick uniform paste. Allow to soak for 5 to 10 minutes. Add remaining quantity of water slowly while stirring continuously and make up the volume.
Precaution:
Keep away from foodstuffs, empty foodstuff containers and animals food
Avoid contact with mouth, eyes and skin
Avoid inhalation of the spray mist. Spray in the direction of wind
Wash thoroughly the contaminated clothes and parts of the body after spraying
Do not smoke, drink, eat and chew anything while spraying
Wear full protective clothing while mixing and spraying
Phytotoxicity:
The product is not phytotoxic when used as per field recommendation.
Symptoms of Poisoning:
Nausea, vomiting, headache and irritation to the bronchii, eyes and lungs may occur.
First Aid:
If swallowed, induce vomiting by tickling the back of throat. Repeat it until the vomitus is clear. Do not induce vomiting if the patient is unconscious

If clothing and skin are contaminated, remove the clothes and wash the contaminated skin with copious amount of soap and water.

If eyes are contaminated, flush with plenty of saline/clean water for about 10 to 15 minutes.

If inhaled, remove the patient to fresh air.
DISCLAIMER WARRANTY: THE PRODUCTS USAGE IS BEYOND THE CONTROL OF THE MANUFACTURER, HENCE ASSUME NO RISK , LIABILITY WHATSOEVER DURING ACTUAL USE EXCEPT UNIFORM QUALITY