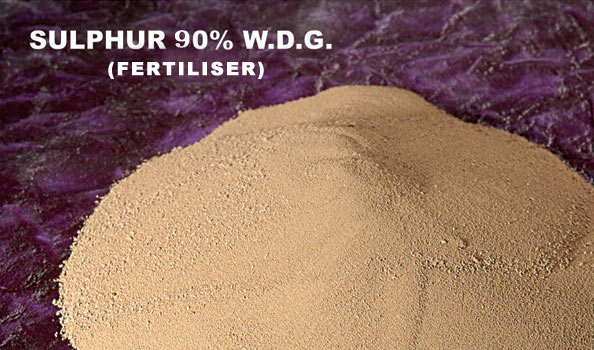 Key Functions :
Helps in maintaining the appropriate pH of the soil, thereby better uptake of other nutrients.
Better crop stand.
Key ingredient in the process of photosynthesis.
Helps in the synthesis of proteins, Enzymes & Vitamins.
Controls metabolic & growth processes within plant cells.
Promotes nodulation in the legumes, thereby helps in nitrogen fixation.
Quantitative & Qualitative Improvement :
Increases:
Oil content in the seeds
Protein Percentage
Starch content in tuber
Yield across all the crops like paddy, Wheat, Cotton, Groundnut, Mustard, Sunflower, Onion, Chilly, Garlic, Vegetables, Sugarcane, Banana, etc.,
Improves:
Keeping quality of fruits & Vegetables
Baking quality of Wheat
Commercial cane-sugar % (CCS)
Pungency of Onion, Chilly & Garlic.
Nutritive quality of forage.
Application Time:
It is most suitable for giving with 1st or 2nd fertilizer top dressing.
Application Method:
Use 1 kg everyday through drip OR
After every alternate day OR
Divide it with every liquid fertilizer dose.
Use 3 kg of 'Cosmic Fertile' per acre,
Close one line of drip &
See the difference…
Crops Benefitted:
Paddy, Wheat, Maize, Cotton
Oil crops – Groundnut, Soybean
Fruits – Grapes, Banana, Tomato, Onion
Sugarcane
Fodder crop.
In short, all commercial crops stand to be benefitted with 'Cosmic Fertile' application.
Benefits to Various Products,
1) Paddy

Increase of yield by 15-20%
More number of productive tillers
Optimum fibrous root growth
Bold & Shiny grass

2) Groundnut

Stimulates growth and development of roots
Enhances nodulation there by helps in nitrogen fixation.
Improves : shelling, kernel size, shape, color, flavor, content of oil etc.,
Increases yield by 15-20%

3) Chilly

Stimulates root growth and development of plants
Enhanced shelf life, reduces storage losses and insure better prize in trade
Increase yield by 20-35%

4) Sugarcane

Improves in uptake of Nutrients
Enhances tillering , green foliage, internodes elongation and increases stalk girth and weight
More number of canes per set
Increases yield by 10-25%
Increases commercial cane sugar % (CCS)

5) Grapes

Increase yield by 10-25% and fetches better price in trade
Increases crop canopy and larger leaves – more photosynthetic area
Recommended dose (Either as soil or through drip)
– 1st – 3.0 kg per acre at 25-30 days after April pruning
– 2nd – 3.0 kg per acre at 25-30 days after October pruning
Optimum growth of berry bunch, berry skin and increases Wt of whole bunch
Increases in number of whole fruit bunch per acre and improves keeping quality

6) Banana

Significant effect on whole fruit bunch (Hands and fingers development)
Improve filing in quality and weight of whole fruit bunch
Increased in number of marketable fruit bunches and yield by 10-25%
Recommended dose (Either as soil or through drip)
– 1st – 2.5g per plant at 30-35 Days after Planting and
– 2nd – 205g per plant at 70-75 Days after Planting

7) Wheat

Increased root growth and development of plant
More number of productive tillers (meter row length)
Increased in length of earhead
Significant increase of protein (per cent) in wheat grains
Increased in number of grains per earhead
Significantly increased in grain yield by 10-15%

8) Bt Cotton

Improves uptake of nutrients
Facilitate to meet higher nutritional requirement
Increase in number & weight of final product
Increase in yield by 20-25%

9) Soyabean

Improves the root growth & nitrogen fixation
Increases the size of leaves, giving more area for the process of photosynthesis
Increases the oil content in seeds

10) Potato

Stimulates root growth & development of plant
Increases yield by 20-35%

11) Onion

Increases yield by 15-30%
Helps in root mass growth & development of bulbs
Thinner neck of bulbs & better shelf life
Direction of Use :
Sulphur is not recommended for application on sulphur "shy" vegetables e.g. cucurbits etc. and certain variety apples, pears and other fruits where high temp (85 deg F or 30 deg. C) prevail sulphur will be phytotoxic.
Plant Protection equipment: Knapsack sprayer, Foot sprayer, Compression Knapsack sprayer with flat fan / flood jet nozzle
Precaution:
Keep away from foodstuffs, empty foodstuff containers and animals food
Avoid contact with mouth, eyes and skin
Avoid inhalation of the spray mist. Spray in the direction of wind
Wash thoroughly the contaminated clothes and parts of the body after spraying
Do not smoke, drink, eat and chew anything while spraying.
Wear full protective clothing while mixing and spraying.
Phytotoxicity:
The product is not phytotoxic when used as per field recommendation.
Symptoms of Poisoning:
Nausea, vomiting, headache and irritation to the bronchii, eyes and lungs may occur.
First Aid:
If swallowed, induce vomiting by tickling the back of throat. Repeat it until the vomitus is clear. Do not induce vomiting if the patient is unconscious.

If clothing and skin are contaminated, remove the clothes and wash the contaminated skin with cop amount of soap and water.

If eyes are contaminated, flush with plenty of saline/clean water for about 10 to 15 minutes.

If inhaled, remove the patient to fresh air.
DISCLAIMER WARRANTY: THE PRODUCTS USAGE IS BEYOND THE CONTROL OF THE MANUFACTURER, HENCE ASSUME NO RISK , LIABILITY WHATSOEVER DURING ACTUAL USE EXCEPT UNIFORM QUALITY